1/ FLAWLESS

"Sheer, light and with just the right amount of matte coverage."
Pacifica Cherry Powder Neutralizing Mattifier, $19.99.
2/ ROSY PICTURE
"I stick it in my purse for bug bites, on-the-go moisturizing and after-gym cleansing. It's incredibly silky and just a little goes a long way."
Neal's Yard Remedies Wild Rose Beauty Balm, $76.50;
3/ FLASHPOINT
"Black is unexpected in summer, but the metallic makes it perfect for any occasion."
Sally Hansen – Xtreme Wear Nail Color in Knighttime, $3.37.
4/ X-FILE
"It's the first step in my at-home manicure routine. Before I apply polish, I shape my nails."

Deborah Lippmann Smooth Operator – Buffer Nail File, $15.00.
5/ PLUMP IT UP
"My skin tends to dry out after I've been on a plane, spent hours in air conditioning or been out in the sun for too long. I use this oil to give myself a facial lymphatic drainage massage. It glides on easily and really soaks into my skin helping plump it up. I'm left looking refreshed and glowing."
Huna Nourish Calendula Healing Oil, $64.00;

6/ UNDER THE SEA
"This is my go-to for after shower. It uses seaweed and a mix of fruit and seed oils to deliver deep moisturizing. Plus, I like the fragrance."
Osea Undaria Algae Body Oil, 9.6 oz, $84;

7/ ON TIPTOE FOR A FLIGHT
"I love how quickly and intensely this lathers up. It has a faint floral smell, is handmade in Canada and has one of the most natural ingredients lists I've been able to find anywhere."
Carina Organics Sweet Pea Daily Moisturizing Shampoo, $13.99;

8/ GARDENCORE

"I regularly work in the garden in summer and this lightweight oil uses plants like chamomile and rosemary to soothe my sore muscles."
Saje Pain Release Analgesic Body Oil, $26.00;
---
Sign Up for The City Style and Living Newsletter: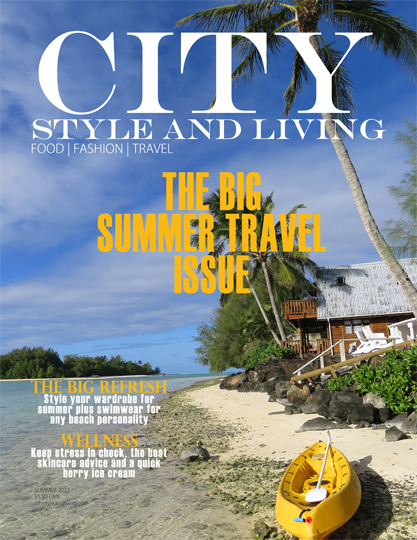 This original article first appeared in the Summer 2023 issue of City Style and Living Magazine.

Don't Forget to Follow City Style and Living on Social Channels: Instagram, Twitter, Facebook, Pinterest