"That's where I taught my twins how to swim," says Ross Stevenson, general manager of Cap Maison, when I mention a tranquil morning spent at Smugglers Cove floating on a waveless Caribbean Sea, until, curious to explore the cliffside on foot, crab, octopus and fish emerge visible from its depths. The beach, adjacent to the resort, with its Instagram-famous hanging chair, figures heavily in hearts and minds. Chef Craig Jones mentions it was where he had his first date with his now wife and low staff turnover means that I hear of it often. Home to the Naked Fisherman restaurant, it is buzzing come afternoon – drinks steadily ferried to guests lounging beneath neon green beach umbrellas, groups of diners chatting as they feast on Kobe burgers and sip Piton beer while others take the resort's paddleboards onto the water. The prettiest view is undoubtedly from the promontory gazebo, a favourite wedding location, where swaying immortelle trees and coconut palms tease mere glimpses of its white sand encircled by blue. The single most impressive feature, however, is the alluring secrecy of the spot. Down a flight of 91 stairs, it requires a little effort to get there.
In the North of the island, past Rodney Bay, secluded Cap Maison with its cobblestone driveway, terra-cotta roof tiles and intimate Mediterranean touches, looks and feels like a well-heeled home, which, in fact, it was at one time. A refresh in June 2023 carries through the familial warmth and charm of this 15-year-old boutique resort. In every direction, its three acres of grounds provide something fascinating to discover: showy, gigantic hibiscus in every hue, fishtail palms straight as soldiers, a golden chain tree draped fantastically in yellow flowers like a 70s beaded curtain, and rarities like the Rangoon creeper its white flowers turning pink and then red in a tumult of jubilant decay.
Of the 50 rooms (2 and 3-bedroom villas, studio suites and standard rooms), those with connecting layouts tend to favour a convivial atmosphere. My 2-bedroom villa with kitchen, living room (thankfully air conditioned), rooftop patio, barbecue and private pool invites catching-up with family over drinks and starter snacks from the stocked downstairs fridge.
Rattan furniture, splashes of vibrant blue against dusty rose plaster, and louvered windows are all typically Caribbean. Elsewhere, though, allusions are squarely to abroad: hot milk served with regular coffee (and Naomi's expertly made cappuccinos) at breakfast remind me of Paris; the wine cellar where I enjoy a beautiful dinner pairing with affable sommelier "Robbie" (Robinson) George looks a lot like Douro (be sure to taste the house solera aged rum) and murals and mosaics throughout look like the famous street art of Colombia.

The Cliff at Cap continues this with a bar that would not look out of step in New York with its smart multi-level decks overlooking Pigeon Island and neighbouring Martinique. The menu, inspired by French and West-Indian cuisine, boasts dishes like roast Caribbean bouillabaisse, the rather mysterious study of chocolate, and seared scallops with cauliflower cheese all relished by guests as cats cutely captured on wooden do-not-disturb signs, make their appearance in person between tables.

Service is top notch and staff remember your favourite order, readily answering questions and providing recommendations. If you are still peckish on the all-inclusive menu plan, there's an honesty shop with self-service (snacks and souvenirs) and O bar with games tables and a self-serve bar. Or, you can work it all off at the gym. Scattered throughout the property, eco-friendly water coolers provide stations for filling up the reusable metal cannisters in rooms.
One evening as the sun sets, I make my way to Rock Maison an elevated deck above the sea, accessed by a rocky passageway. A dedicated personal waiter uses a system of signals to bring champagne down to the table via a zip line. Course after courses continues as darkness prevails. For all of its worldliness, it could only be here at Cap Maison in St Lucia, the Helen of the West Indies.
MY ROOM Huge, super stylish and sophisticated two-bedroom ocean villa with full kitchen, living and dining room with balcony. The second floor has two master bedrooms with full bathrooms each with their own patio overlooking the sea.

DINING Two restaurants on site: the Naked Fisherman (a beach bar and grill, often with live music) and Cliff at Cap (one of the most sought-after tables on the island). Sunset drinks are a must.

MY HIGHLIGHTS Private, expert wine pairing dinner (or rum tasting) at the wine cellar (Cellar Maison). Rock Maison feels like a secret experience: walk down a series of stairs, cross a small spit of sand and arrive at one of the best oceanside tables anywhere in the Caribbean. Chilled champagne is zip-lined to your table, followed by a three-course dinner all while watching an epic sunset.

BOTTOM LINE Definitely one of the best boutique resorts on island.
LOCATION Smuggler's Cove, Saint Lucia
Relais & Châteaux member since 2023
WEBSITE capmaison.com

---
Sign Up for The City Style and Living Newsletter: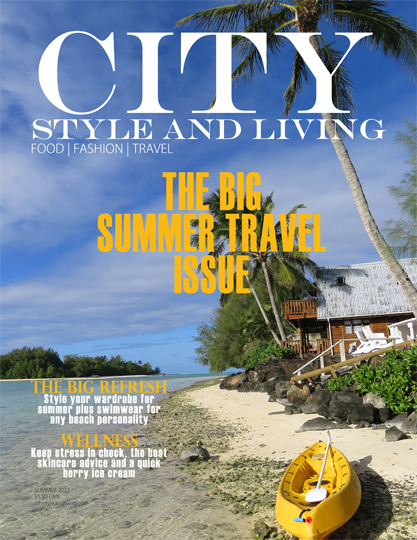 This original article first appeared in the Fall 2023 issue of City Style and Living Magazine.

Don't Forget to Follow City Style and Living on Social Channels: Instagram, Twitter, Facebook, Pinterest