Service: Airports are busy places. Airport hotels are often an afterthought for many hotel brands, where service and style can feel stale, manufactured and industrial.

Pleasantly surprised by the timely shuttle pickup from the airport, in the most spacious and comfortable van, the driver ensures my reservation is for the correct property (as there is another Sandman Signature hotel on Dixon Road). This is just the first sign of the exceptional service throughout the hotel.

Upon check-in, as front desk agents busily attend to several guests at once, they do not miss a beat. Each guest is met with a smile and gracious assistance, the kind of attention that makes a hotel stand out in a sea of other properties in the vicinity.
Vibe: Opened in the mid 00s, the property was recently renovated resulting in a polished refresh. The lobby, where a stone fireplace is the focal point, is open and inviting with plush leather seating and plenty of space to rest luggage. Two elevators take guests up to rooms, and access to dining is easy (on-site).
Room: My room is sleek and comfortable, with thoughtful details like a microwave, small fridge and coffeemaker (and coffee) – all handy when a bleary-eye flight is booked. A small balcony overlooks the beautiful Royal Woodbine Golf Course – a touch of greenery that feels like I'm a world away. Smart details, like pillows embroidered with 'soft' and 'hard', make for the perfect slumber just before my early morning wake up call comes through.
Dining: Moxies, the fast-casual chain located inside the hotel is bustling when I arrive for dinner. A beautiful atrium, with trendy green banquettes and tropical plants adds to the escapist quality of the hotel. A comforting bowl of prawn laksa, cashew chicken lettuce wraps perfumed with ginger and sesame, and chili-lime margarita are a delicious way to end the evening.
STATE OF STAY
Room: Signature elite two queen with balcony
Location: 55 Reading Ct, Toronto, ON M9W 7K7
Amenities: indoor pool, fitness centre, and breakfast on the go (for purchase).
Website: sandmanhotels.com
---
Sign Up for The City Style and Living Newsletter: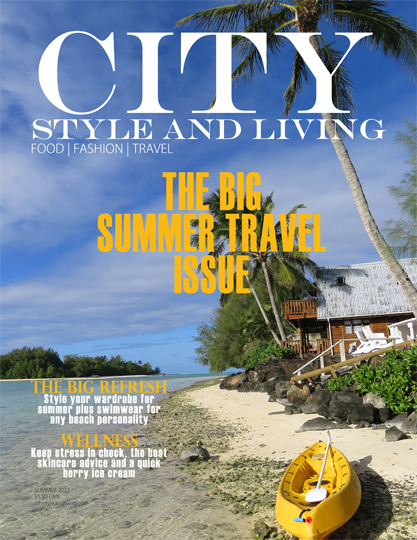 This original article first appeared in the Fall 2023 issue of City Style and Living Magazine.

Don't Forget to Follow City Style and Living on Social Channels: Instagram, Twitter, Facebook, Pinterest