I consider myself a hopeful-cynic. I'm not sure my self-diagnosis is a real affliction, but, after years of unanswered questions, stressful lifestyle and sense of bewilderment, I err ever closer toward the latter. So, when I receive an email from a friend (who's been trying to lure me to Yountville for over a decade), with eight simple words, "you should come to Yountville…it's harvest season" I embrace the opportunity, albeit with a healthy dose of skepticism. Food, wine, and California: three of my favourites.
For all its superlatives ("culinary capital," "world-class") as I drive off highway 29 onto Washington street into downtown Yountville greeted by a swath of still-blooming rose bushes, olive trees and the gentle bustle of pedestrians and cyclists – it's surprisingly restrained. You won't find billboards emblazoned with "Michelin star restaurant, this way" or plaques dedicated to famous chefs (though there is an apropos bronze sculpture). Instead, its unassuming appeal unveils slowly. At one and a half square miles, Yountville is infinitely walkable, coaxing you to yield to its pace. Over the next several days, I am lulled to its rhythm.
If Yountville is the heart of Napa Valley, The Estate is one of its main arteries. Centrally located, the "village" is set across 22 luscious acres, comprised of a vineyard, two hotels (Hotel Villagio and Vintage Inn), "Vintage 1870" V Marketplace, and three restaurants (Bottega, ottimo, Coqueta) all in the historic 137-year-old Groezinger Winery complex. The dreamy setting regularly features as the site for magazine-worthy weddings and special events.
Hotel Villagio, the 113-room boutique hotel where I am staying, is near capacity with harvest season in full swing. A trussed roof enhances the soft grey exterior to achieve the embodiment of sleek, modern farmhouse. The lobby feels as if you've stumbled into someone's elegant study; leather and velvet chairs, industrial gold light fixtures, and dark walls, add a rich masculine touch. The cohesive colour palette is echoed in rooms, where an (ornamental) fireplace, and Carrara marble bathroom with standalone tub enhance the laid-back-luxe vibe. The overall result is polished sophistication with down-to-earth appeal. This extends to its brigade of hotel ambassadors (preppy-clothed young men who politely ask if you need anything – shuttle ride, water, help with the e-bike), and to details like a snack table, comforting house-made breakfast (the scones are a must) and picnic-to-go packs which make the property feel anything but cookie-cutter.
"We're siblings – I'm Jerry, that's Joanna, we're celebrating a few birthdays," a friendly man wearing a blue, Hawaiian-print shirt and thick southern drawl, tells me when I ask what has brought him here. Young families, couples celebrating anniversaries, girls' getaway types and business retreat alums round out the majority of guests.
It's October and, though winemakers are praising the soaring temperatures, (well into the 30s), I choose to beat the heat, opting for a brief shuttle ride from the hotel to The Napa Valley Museum. "The museum is actually right next to the veterans' home, which is about one third of the population here. You'll see them all around town, riding their motorized wheelchairs," Marc, the driver, says as he drops me off at the front entrance. Tiki Dreams: From Far-Away Fantasy to Pop-Culture Phenomenon, is a riot of colour and artifacts dating to pre-WWII. It tells the story of soldiers who brought back souvenirs from their time serving in Polynesia and the South Pacific, which, in turn, inspired Tiki bars and lounges in Northern California, eventually spreading to create the unique cocktail culture we know today. An apt way to immerse myself in the California dream.
Undeniably, most visitors come to Yountville for the food. While some seem drawn only to the bragging rights of spending four figures on a single meal, I opt for a less reductive approach. Restaurants, largely fall into three broad categories: classic French, hyperlocal, and Italian-American. Over the coming days, I hone in on some the best in town, where menus seem dedicated to local farms and producers – graciousness and connection that doesn't feel gimmicky.
My first stop, The Restaurant at North Block, newly renovated in spring 2023, feels light, thanks to a seamless indoor-outdoor dining. Executive chef Juan Cabrera's menu highlights California's varying regions, from valley to coast: Buttery charred octopus is gently smoky set atop Rancho Gordo gigante beans, and sungold tomatoes; a bordelaise accompanies well-seared Liberty duck breast, contrasted by sweet shallot marmalade and figs; and, a yielding caramel budino (a set custard) is accented with Macallan whisky – a great nightcap-style dessert.
Ciccio, owned by the Altamura family, had been a popular restaurant since 2012, closed in 2022 and, in early 2023, turned to new "caretakers" Chris Kostow and his wife. He was of course, a three-Michelin-star chef at the now-shuttered The Restaurant at Meadowood. Kostow's characteristic style of cuisine draws a crowd – it's a Monday evening, and I can barely hear over the loud chatter in the dimly lit main dining area. The menu is succinct yet deliberate. The deceptively simple tomato pizza – which I watch being made in the open kitchen by cooks artfully spinning well-fermented dough in the air before tossing into a wood-fired oven – features a red sauce with fresh oregano and stracciatella supported by a puffy crust and thin base. It makes a wonderful match with Frank's negroni, a gutsy twist made with Hendrick's Gin, Torino Vermouth and Nonino. Sweet bites, like an ultra-nutty hazelnut ricotta cake tastes like Sundays at your grandmother's house, and, nothing screams produce-driven-swagger more than Emerald Beaut plums (the sweetest you'll ever taste) as a stand-alone dish on the dessert menu.

On another scorching day, I sit at an outdoor patio under a bright red awning at Bottega, one of three, Michael Chiarello restaurants, munching on the ideal antipasti – an addictive salad featuring finely shaved brussels sprouts, lightly coated in a Meyer lemon dressing, strewn with crunchy marcona almonds, sieved egg and Pecorino Romano. Chiarello's "Italian influenced wine country cuisine" is rustic and craveable. The ricotta gnocchi della nonna, which I still dream about, is sheer perfection. Heftier than most, it's billowy despite its size, as if the centre is filled with ricotta (a quick online search uncovers the secret – gently folding the dough with a bench scraper). It comes with old hen tomato sauce – neither too robust nor acidic. Even the bread and dip showcase the exquisite simplicity of a few ingredients: olive oil, garlic, parsley and chopped Parmigiano Reggiano. As someone who regularly watched Easy Entertaining, glued to Chiarello's easy-going persona, it's bittersweet to be dining at Bottega, just a few weeks after the chef's sudden passing.
It's not challenging to find exceptional food and wine at every turn, but what I didn't know until visiting, was that for all the galaxy of stars in its roster, there is a more casual side to the food scene and it's equally delicious.
Mustards Grill, helmed by Cindy Pawlcyn, is an institution for many reasons including pioneering wine country cuisine and establishing itself as one of the first in the area to serve produce plucked straight from their garden. The design is understated: a black and white checkered floor, chalkboard displaying daily specials, wooden chairs, and white tablecloths. This is contrasted by quirky winks on both the menu ("Truckstop Deluxe: Always meat, often potatoes, rarely vegetables") and wide-ranging wine list ("way too many wines"). The food is delectably approachable – a mounded platter of shoestring onion rings with house made tomato-apple sauce arrives at my table accompanied by a juicy Umpqua lamb burger. This year marked its fortieth anniversary humbly serving, "deluxe truck stop classics." Judging by the packed tables, little has changed, and shouldn't.
When I arrive for dinner at R+ D Kitchen, a cadre of wait staff is efficiently attending to patrons, many of whom seem to be regulars, like a table behind me, chatting about baseball. Banquettes and a handful of bar seating makes for a genial atmosphere. My order is promptly served – chicken meatballs in ochre mole amarillo (a lighter version than the dark and earthy mole negro) snuggled in polenta. Cucumber and avocado sushi is remarkably tasty for something so straightforward, and the legendary Ding's crispy chicken sandwich with baby Swiss and spicy slaw are fantastic. A skyscraper carrot cake is punchy with warm spices between floors of mascarpone frosting.
Both restaurants, I observe, are packed with locals. As it turns out, there is a lot of dining nuance to this town.
That evening, as I walk back to my room, an invitation from the hotel is wedged into my door. "It's time! Our winemaker has decided the grapes have reached their peak…come join us for the harvest in our vineyards… Gloves and pruners will be provided." Picking grapes during harvest season? What a dream.
There are dozens of hotel guests in the vineyard at pre-dawn and a palpable buzz. Every few minutes, a gigantic white crate emblazoned with a gothic "G" is filled with hand-picked grapes. After splitting my time between reaping and snapping dozens of photos, I'm famished (those trays are heavy!) and walk a few paces back to the hotel to enjoy breakfast.
Drawn to the vineyards again, I whip out my camera for the umpteenth time. "Getting some good pictures?" a soft spoken voice behind me asks. "I hope so. The light is so beautiful over the vineyards this morning, it's gorgeous," I answer. Glancing behind, I'm greeted by a good-looking man with sandy blond hair and blue eyes, wearing a light brown teddy fleece jacket and jeans – the epitome of sunkissed California je ne sais quois. This morning's harvest of merlot and cabernet sauvignon, he tells me, will be whisked away, immediately pressed to retain the integrity of the fruit, and transformed into The Estate's blend by the Napa winemaker du jour. After chatting for some time, he asks if I've taken the hotel's e-bike out for a ride. "You can take the vine trail just behind the hotel, but I would go all the way down Washington, turn right onto Madison…," he pauses for a few seconds, contemplating the route in his head, then continues, "then left, on Yount, and just keep going," he suggests, emphatically. A packed schedule means this will have to wait for another day.
But first, wine. In the late 1800s, frontiersman Ernest C. Yount planted Napa Valleys' first vines in the area, so, to get up close with the noble berry, I visit a trio of boutique tasting rooms.
"This is our Russian River Valley Pinot Noir, Benevolent Dictator," Bob Binder, co-founder of Silver Trident winery (who also co-founded Oceania Cruises), cheerfully announces upon entering the tasting room. Crunching down on Zapp's Cajun dill chips alongside the garnet liquid in my glass may seem an unconventional pairing, but it's part of the winery's "potato chip extravaganza" – an approachable pandemic pivot from small bites which has proven popular with wine lovers of all stripes. The boutique winery produces approximately 4 000 cases each year made by winemaker Kari Auringer, a Wisconsin native (Silver Trident also sells olive oil and proprietary coffee).
"How do you like the décor? It was designed by Trevor R. Howells and exclusively furnished with Ralph Lauren Home. That chair you're sitting on is actually an old menswear suiting fabric. That detail on the light is a women's bracelet," Binder, tells me proudly, before pouring two more glasses of bold Cabernets for comparison, Twenty Seven Fathoms and Friends & Family. "The difference is the type of oak barrel – from one of the most esteemed cooperage families in France. You can taste the terroir of the French wood," asserts Binder.
I notice a display of brilliant, leggy, ruby gladiolus jutting out of a vase. "Our floral arrangements are all one colour," whispers Binder, pointing out little details I missed. Ever the amiable host, he knows just how to make guests feel as though they've entered his home.
At Hestan Vineyards, a trio of friends in their mid-20s are standing at a tasting table when one asks, "So, when do you add sugar to the wine?" Elsewhere, an eyebrow might be raised, but without a whiff of sass, wine ambassador Paul Hahn patiently explains the wine making process.
The glamorous tasting salon is fit with large windows displaying glistening copper pans, acacia wood bowls and other gourmet culinary items. Its no wonder that the estate winery is owned by Stanley Cheng, founder of Meyer Corporation U.S., whom you can thank for inventing and patenting Circulon, the first hard-anodized aluminum nonstick cookware. In 1996, Hestan Vineyards (a mashup of his and his wife's Helen's names) was born, growing 110 acres of the principal Bordeaux varietals.
Winemaker Thomas Rivers Browns' 2017 Meyer Vineyards and 2017 Hestan Napa Valley Cabernet Sauvignon are exceptional representations of his craft. Hahn, perceptively susses out, that I will prefer their concentrated fruit and depth based on my preferences throughout the tasting. "I used to work at a high-volume winery, but wanted a change of pace. I wouldn't be able to sit down and chat with people, like I can here," discloses Hahn. Indeed, the intimate tasting room makes for a personalized experience that forges a sense of place.
A 70s pop-rock track is playing softly when I arrive at Handwritten Wines. Carefully curated open shelves are filled with plants, leather bound books, ink and fountain pens and the written word abounds. "Shall we start off with some bubbles this morning?" proposes Mary Kate Fitzpatrick, wine ambassador. Her youthful, engaging and conversational energy belie the fact that she knows her stuff. A New Jersey native, Fitzpatrick travelled through Europe learning about wine and history, poetically reminiscing about her time there throughout the tasting.
"I can't wait till you try this cheese. The melt-in-the-mouth texture and subtle nuttiness goes so well with the tannin of the wine. I love it so much," divulges Fitzpatrick, motioning to a wooden charcuterie board with three neat quenelles of French butter, a rosette of Tête de Moine cheese, and an elegant Laguiole knife. Naturally, she's right, and I reach for several more smears of the delicious butter and cheese. Sweet against the 2014 Carneros Cabernet Sauvignon, packed with red fruit and subtle spice, it is a scrumptious morsel. "With wine, there are so many extensions – from art and culture, to music and literature. It draws you in," she affirms.
To immerse myself further, I spend another afternoon on an Artwalk stroll led by Jim McDonald, former Yountville Arts Commission chair. Now retired, he spends some of his time writing poetry, occasionally, performing it at live reading events in town. Outdoor artwork in Yountville is abundant with 35 pieces by an array of artists displayed from north to south, most on a rotating basis, with a handful of permanent pieces purchased by the town. A downloadable audio tour is regularly updated with information about each piece and its inspiration.
As we walk downtown, he points out the social-media, pandemic-famous, Sidewalk Judge, the metal origami-style of artist Bruce Gueswel, and colourful Dancing Butterflies, before pausing at a giant orb in the centre of town. "The Yellow Sphere is one of my favourites. The light changes depending on the time of the day – they even light it up during the nighttime. Sometimes, at just the right moment, you can get sun beams going through the open holes, it's quite special," he notes.
From one art form to another – I step inside Kollar Chocolates for a taste of edible works of art. An enticing kaleidoscope of bonbons glisten in the glass showcase at the award-winning artisanal chocolate shop which also sells an array of treats including chocolate bark, truffles, dark hot cocoa mix and unique specialties like malt balls. A one-two punch of savoury culinary chops and local inspiration has propelled Kollar to create uncommon flavour marriages like fennel pollen with milk chocolate and Napa zinfandel with dark chocolate ganache.
There's no more iconic way to commit Yountville to core memory than by hot air balloon. I've chosen Napa Valley Aloft, one of the original hot air balloon companies to offer aerial tours. It's pitch black in the parking lot behind V Marketplace, the launchpad for the four balloons that will take off sequentially.
I climb into the enormous basket, together with nine strangers, and though I have a fear of heights, barely notice when we've lifted off the ground, easily floating through the warm autumn air. Pilot, Ferrel, has been flying balloons for more than thirty years, everywhere from Africa to Cappadocia, and on this clear day, takes time to point out the outline of San Francisco on one end and the Sierra Nevadas at another.
At 3 000 feet, you can truly appreciate the remarkable beauty of the ever-changing landscape. Rows of closely planted vines resemble a verdant cable knit sweater, and sunrise casts the brooding chiaroscuro of an Italian painter over the gently sloped hills. The calm is infectious.
Over a too-brief three days, the allure of Yountville becomes clear: its quiet-confidence reveals itself as more spellbinding than quaint, more hypnotic than sleepy.
With this in mind, on my last day here, I decide to follow the recommendation I had received a few days earlier. I wander through a quiet residential neighbourhood, charming houses embellished with rose bushes, lemon and olive trees. As I turn onto Yount street, I smile. The picture is impeccably framed: an embracing view of the Mayacamas Mountains where neat rows of golden-green vineyards highlight the foreground. I savour every last drop.
For all its prestige, Yountville is best kept as a place to breathe in life's simplest pleasures: the tranquil beauty from high in the air, the consummate bite or sip, celebrations large and small, the connection to a piece of art, the mesmerizing sepia glow of the morning sun dancing atop grape vines during harvest season.

Another visit, perhaps? I exhale. One can always remain hopeful.
---
The Details: Yountville, Napa Valley California
WHAT TO DO
Tiki Dreams, Napa Valley Museum
The latest exhibit, Tiki Dreams, is a colourful display of Cali cocktail culture. 5 Presidents Cr., napavalleymuseum.org
Yountville ArtWalk
Fun, outdoor display of 35 sculptures (permanent and rotating) throughout town from various artists. Yountville Visitors Center, 6484 Washington St., yountville.com
Napa Valley Aloft Balloon
Witness sunrise over the gorgeous vineyards. nvaloft.com
WHERE TO STAY
Hotel Villagio
California farmhouse vibe. Inviting, sophisticated and absolutely beautiful at every turn – you'll want to visit again and again. 6481 Washington St., theestateyountville.com
EAT AND SIP
North Block Restaurant
Charred octopus and Liberty duck breast with mission figs are just some of the delicious bites from Executive Chef Juan Cabrera. 6757 Washington St., northblockyountville.com
Silver Trident Winery
Don't let quirky names like, Benevolent Dictator, fool you. These are seriously lovely wines and the tasting room is an interior design dreamscape fit with Ralph Lauren home furnishings. 6495 Washington St., silvertridentwinery.com
Mustards Grill
Classic "truck-stop" celebrating 40 years. Order the piled-high onion rings and mile-high lemon-lime pie. 7399 St Helena Hwy., mustardsgrill.com
Ciccio Napa Valley
Newly re-vamped collaborative menu from "caretaker" and chef extraordinaire Chris Kostow. You can't go wrong with a Frank's negroni and wood fired pizza with fresh stracciatella. 6770 Washington St., ciccionapavalley.com
Handwritten Wines
The bread and (French) butter pairing is exquisite, and the Los Carneros Cabernet Sauvignon delightful. 6494 Washington St., handwrittenwines.com
Bottega Napa Valley
Fresh, bright, rustic Italian fare from late Chef Michael Chiarello: pillowy ricotta gnocchi della Nonna and brussels sprout salad says it all. 6525 Washington St., botteganapavalley.com
Hestan Vineyards
The tasting room features an array of cooking vessels (eye candy for foodies). Great 2017 Cabernet Sauvignon. 6548 Washington St., hestanvineyards.com
R&D Kitchen
Who knew the American and sushi menu combination would be so addictive? Well-prepared sushi and the crispy chicken sandwich is a must. 6795 Washington St., rd-kitchen.com
Kollar Chocolates
Chris Kollar's award winning shop at "Vintage 1870" V Marketplace is ultra-chic. Pick up chocolate-nut bark and an assortment box. 6525 Washington St., kollarchocolates.com
HOW TO GET AROUND

2023 HYUNDAI Tuscon PHEV
Although Yountville is infinitely walkable, if you're exploring the area, you'll need a car.

This 261 horsepower SUV has both a Smartstream turbocharged 1.6-liter four-cylinder gasoline engine and a 13.8-kWh battery powering an electric motor, making it easy for drivers to who want the convenience of gasoline for long road trips and a plug-in electric option for shorter jaunts.

Although I did not use the electric charger for this long road trip through California wine country, it was useful to know that it would automatically turn to gas when the battery runs low.

With a whisper start, six-speed automatic transmission and spacious interior, the Tuscon has great fuel efficiency – I drove 1200 miles and spent $120 on gas. I fit three large roller suitcases in the trunk and a few handbags. I was also able to store a soft side cooler with drinks and a few more carry-on pieces in the back seat.

Many features, that come into play automatically, are either: useful (seats adjust to driver); safety-based (surround view camera) or helpful (back windshield is adequately large to see other vehicles and the wiper cleans very well). The Tuscon is a smooth ride especially on the tricky turns of Trinity Road and despite the shadows cast by the live oak trees.

The only downside was the navigation system which, though responsive to missed turns by quickly recalculating an alternative route, did take me to the wrong destination on more than one occasion. Hyundai.ca; hyundaiusa.com.
---
Sign Up for The City Style and Living Newsletter: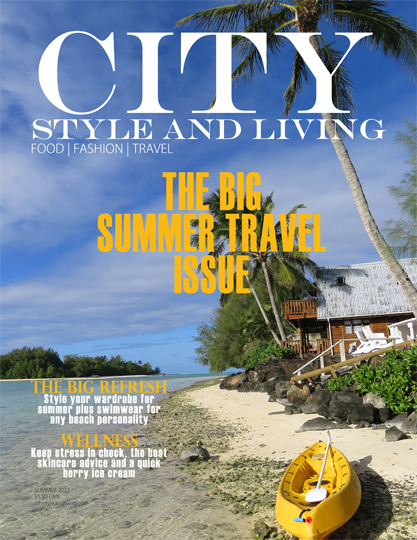 This original article first appeared in the Winter 2023/24 issue of City Style and Living Magazine.

Don't Forget to Follow City Style and Living on Social Channels: Instagram, Twitter, Facebook, Pinterest