Ylang ylang crème brûlée leaps out from the carved wooden menu – a classic with a local twist – it brings to mind the tree near the onsite pier, with its fluorescent green petals, spindly and drooping as tassels. If flower desserts are not your thing, there's a velvety old rum cheesecake that actually tastes of rum, a lamb jus redolent of West Indian Bay leaves (bois d'Inde in local Creole), a pot au feu brimming with seafood and a coconut cream tart with ginger anglaise that reminds me of the sugar cake my West Indian grandmother used to make.
Twenty minutes from Rodney Bay, on St Lucia's north coast, the adults-only all-inclusive boutique hotel, riffs on Caribbean vernacular not only in its food but also its architecture. Many of its 26 villas reference gingerbread houses with their galleries, gables, and large lots with fruit trees all around the perimeter. This was once Bonaire Estate and a walk around the property yields sightings of cacao, ackee, starfruit, breadfruit, and mangoes. The certain appeal for guests, mainly from the UK and US, though, is the sea. Visible from the elevated reception space that encompasses C-Bar and Windsong restaurant, its mood changes throughout the day, as cerulean settles to cobalt. Tucked away on a lower level, the swim-up bar makes a horseshoe around the infinity pool where lunch is served one day, and lovely local fruit juices become cocktails by the deft hands of staff.
An impending tropical storm has prompted the government to shut down the island. Preparations before and after the storm, nearly the entire length of my stay, slightly interrupts the flow. Understandably, staff are apprehensive about getting home and at times the service is laid-back, though the near constant presence of food and beverage manager, Jean-Renee du Boulay, who takes the time to mingle with every single guest, inquire about dietary restrictions and ensure that everything runs smoothly, does not go unnoticed.
As the storm lurks, Harry Belafonte's best-known tunes, albeit in a jazz-folk tone and backed-up by maracas, emanate from the balcony of Windsong restaurant. A rolling retinue of musicians alternates on subsequent nights, in case the King of Calypso is not your style. On evenings, a cherry red piano is on display as the sun sets over Walcott Island.

There certainly are a few stumbles at the resort, as there are everywhere, but guests are happy, and swinging in one of the many hammocks scattered throughout the property, watching the world go by, it is easy to forget them.
MY ROOM My sunset ocean view jr. suite featured a large bathtub, high ceilings and patio and came stocked with lots of alcoholic and non-alcoholic drinks. There are also four coveted swim up junior suites perfect for couples.
DINING Amazing views from Windsong restaurant. Desserts, especially those with local flair are delicious. Portions are generous and seafood dishes are packed with a plethora of seafood and local specialties like curry lamb are tasty. Don't miss the goat's cheese balls (a great suggestion from the ever smiling, Reena).
MY HIGHLIGHTS Infinity pool, onsite pier, and gym all surrounded by grounds that include a wide variety of fruit trees. Quiet beach with lots of beach chairs and grab-and-go paddleboards and kayaks.
BOTTOM LINE This beachfront hideaway is one of the most popular all-inclusives in Saint Lucia.

LOCATION Bonaire Estate, Marisule Gros Islet, Saint Lucia
WEBSITE calabashcove.com
---
Sign Up for The City Style and Living Newsletter: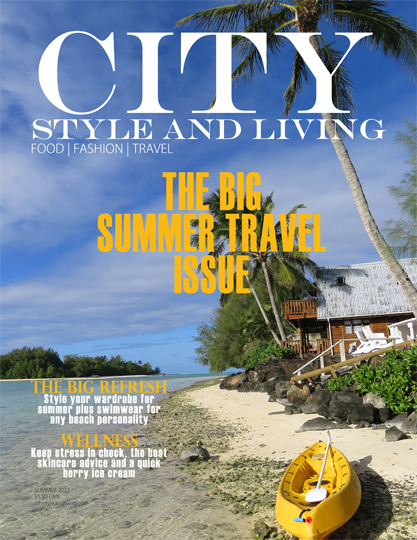 This original article first appeared in the Fall 2023 issue of City Style and Living Magazine.

Don't Forget to Follow City Style and Living on Social Channels: Instagram, Twitter, Facebook, Pinterest