Skillet, or cast-iron cooking is the ultimate expression of summer – and when you add fruit to a cake batter, it's pure bliss. The even heat distribution around the pan creates perfect caramelization around the edges, and the oozing fruit adds a comforting warmth.

It was a contest sponsored by the Dole Pineapple Company in the early 1900s that marketed and ultimately popularized this version of upside-down cake. As pineapples historically symbolize hospitality and generosity, there's no better sharing cake than this classic.
Indeed, you've got to respect a fruit that was once the status symbol of its time.  In fact, pineapple, originally from South America, was so rare and prized that it was celebrated in lavish architectural details which can still be seen today, like the finials that capped the staircases of estate houses throughout Europe. Today, us simple folk can simply pick up the prickly fruit on a grocery run, though its special allure lingers as the ultimate summertime treat.  Enjoy this classic upside-down cake with friends.
Ingredients
For the topping:

3 Tbsp. salted butter
¼ cup muscovado sugar
1 (8-ounce) can pineapple rings in pineapple juice
Amarena cherries
For the cake:
1 ¼ cups all-purpose flour
¼ cup almond flour
1 tsp. baking powder
¼ tsp. cinnamon
1 tsp. vanilla paste
1 cup granulated sugar
8 Tbsp. (1 stick) room temperature salted butter
2 large eggs

Method
Heat the oven to 350°F. Butter and flour an 8-inch round cake pan and set aside.

For the topping, melt butter and sugar in a pan, until bubbling, and dark but not burnt.

Pour the caramelized sugar mixture into the prepared baking pan and spread into an even layer to cool slightly.

Arrange the pineapple slices in a circular pattern overtop the caramelized sugar in the cake pan. Reserve the juice.

Whisk together dry ingredients (flour, baking powder, and salt) in a bowl and set aside.

Cream sugar and butter together until creamy and light. Add eggs.

With the mixer on low, alternate adding flour mixture and pineapple juice mixture in 3 batches until fully incorporated and smooth.

Use a spoon to dollop spoonfuls of the batter evenly over the fruit in the cake pan. Smooth the batter with an offset spatula.

Bake until dark golden-brown and a cake tester comes out clean, about 45 minutes.

Cool the cake on a cooling rack for 10 minutes. Invert the cake onto a serving plate, and carefully lift the pan away. Serve with ice cream.

Place an Amarena cherry in the centre of each pineapple ring. Serve with ice cream.
Tip: Instead of the ubiquitous bright red maraschino cherries of the 70s, CSL used more flavourful, but less colourful, Amarena cherries.
---
Sign Up for The City Style and Living Newsletter: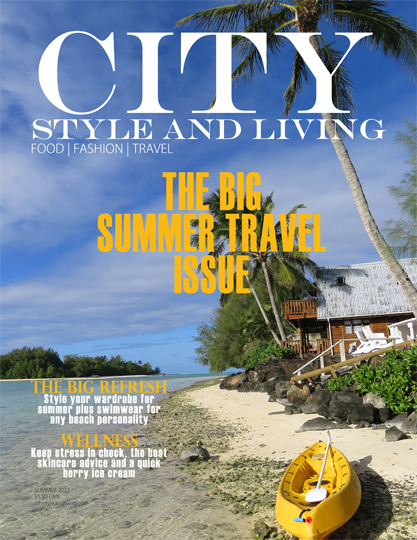 This original article first appeared in the Summer 2023 issue of City Style and Living Magazine.

Don't Forget to Follow City Style and Living on Social Channels: Instagram, Twitter, Facebook, Pinterest