Have you seen those giant grapefruit-like fruit at grocery stores lately? They're a citrus from southeast Asia called pomelos (also called shaddock) and taste like a sweet, mildly bitter version of grapefruit. As fans of a good cocktail (and a good alliterative tongue twister), CSL combined pomelo with paloma, the classic Mexican cocktail.
Traditionally, the paloma recipe calls for tequila, a squeeze of fresh lime juice and grapefruit soda. Instead of tequila, and to add more depth, we mixed things up by using mezcal, the smoky spirit made from agave (similar to the taste of a peaty single malt scotch). Rather than grapefruit soda, we used fresh pomelo juice, a touch of simple syrup and a splash of sparkling water.
Ingredients
2 oz mezcal
½ oz. fresh lime juice
½ oz. fresh pomelo juice
½ oz. rosemary simple syrup
1 oz. sparkling water
Garnishes
Pomelo wedge, rosemary sprig. Tajin and salt for rim or outside of the glass (optional).

Method
Mix salt and tajin together and transfer to a plate. Wet the outside of the glass (or rim) with lime wedge and honey and dip the glass into the salt chili mix.
Fill a cocktail shaker with ice, mezcal, pomelo juice, lime juice, simple syrup.
Strain mixture into a glass filled with ice, and top with sparkling water.
Garnish with a pomelo wedge and a sprig of rosemary.
---
---
Sign Up for The City Style and Living Newsletter: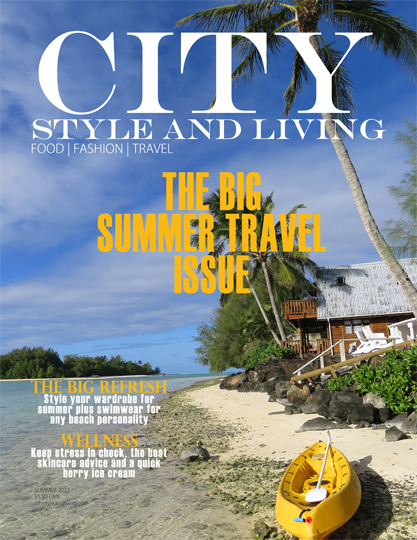 This original article first appeared in the Summer 2023 issue of City Style and Living Magazine.

Don't Forget to Follow City Style and Living on Social Channels: Instagram, Twitter, Facebook, Pinterest